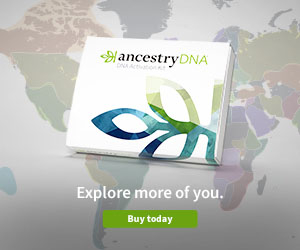 St. Patrick's Day Sale!
AncestryDNA will be $40 less on sale for $59 plus tax and shipping
The St. Patrick's Day Sale will start at midnight EST on Saturday, March 6th, and will end at 11:59pm EST on Wednesday, March 17th.
If you haven't yet jumped on to the DNA journey, now's your time. DNA has many uses - you can connect with other cousins, you can discover your ethnic origins, and you can make new discoveries through DNA. I've personally solved a few mysteries, confirmed a very old family rumour, and found two surprise additions to the family tree, and discovered that hubby's great-grandfather was NOT the father of hubby's grandpa.
Over the years I've written about my DNA adventures - here are a few for you to read if you wish: