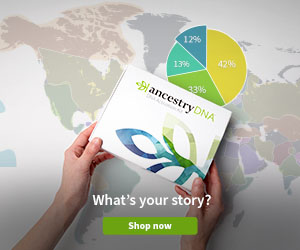 Ancestry.com DNA kits are now on sale! Save $40.00 until May 9, 2021

AncestryDNA picks up where the paper trail leaves off. The combination of an individual's DNA with more than 40 million family trees and 11 billion records on Ancestry.com can help people find specific ancestors as far back as the mid-17th century by connecting with living relatives.
Additionally, AncestryDNA gives people their ethnic breakdown by percentage from 20 populations including the British Isles or Native American—automatically tracing their ethnicity and displaying the results in an interactive and simple way.
AncestryDNA provides consumers with exciting insights into their ethnic background and helps them find relatives who may hold the keys to exciting new family history discoveries.
Don't miss out on this sale - pick up a few extra for relatives and start your DNA journey.